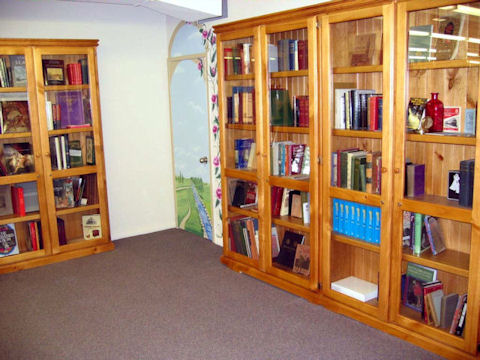 Shop Hours
Due to significant family illness we will be making changes to our shop opening hours to meet needs for hospital & medical visits.  At this stage this means a 2.30pm close on Tuesdays & Thursdays - but this might change as the health situation changes.  We close as normal at 5pm on Monday, Wednesday and Friday - and 3pm Saturday as usual. So if you plan an afternoon visit best to call us first.
Welcome to Adelaide Booksellers at 12 Twin Street, Adelaide and a world of secondhand, out-of-print & antiquarian books. Established in 1979, we are professional booksellers with both on-line and bricks & mortar stores. It's easy to browse most of our stock on-line or you can drop in to the shop and enjoy our peaceful surroundings.  We have over 30,000 quality secondhand books [most out-of-print] across a wide range of topics including South Australian history, military history, collectable childrens', art, general fiction, crime fiction and much, much more.  A lot of our stock, but not all, is online - so a telephone call or email is worth a try.   BUT - if we haven't got what you're after then we'll help you find it.  As one of Adelaide's most highly regarded secondhand bookstores we have a reputation for quality books and excellent customer service.  Phone  08 84100216 or email [email protected]  
How to Find Us   Located on the Lower Ground Floor, 12 Twin Street, just around the corner from Rundle Mall and a few yards east of Adelaide Arcade.    Twin Street runs off Rundle Mall [parallel to Adelaide Arcade] almost opposite the Richmond Hotel.  The stairs are wide and gentle or you can take the lift if you choose which makes it easy for disabled access or bringing prams and pushers.  Moving around the store is also easy with wide aisleways.
Catalogues
We issue regular catalogues via email of mixed titles several times per year. Each catalogue has about 100-120 titles which have been carefully selected from new acquisitions. 

We also can issue catalogues on special interest topics on request. If you would like to receive, or request, these please send an email to [email protected]. 

You can also print out our catalogue request form by CLICKING HERE and mail us your request for catalogues on special interest topics.